If you're interested in hearing from Salesforce, BigCommerce, LAB Group and London Research, head to our Eventbrite page to book your place for the event.
In a shifting digital landscape, what can your business do to create customer experiences that stand out?
Stakd: The future is in pieces features talks from industry experts, exploring the latest CX trends and insights, as well as ways of creating digital customer experiences that stand out.
With immense opportunity in the digital space for marketing and digital professionals to drive growth and strengthen customer engagement, it's now more important than ever to listen to the market.
Brands have been moving towards offering customers a more holistic digital experience, enabled by – and giving rise to – a new breed of technology. Composable architecture introduces an increasingly popular approach to enterprise digital suites. One that's made up of many moving parts, that's nimble and can scale as your business scales.
Capturing the value of these new and innovative digital choices requires taking a step back and looking at the bigger picture.
Stakd aims to dive into key trends and insights that drive customer engagement and are likely to shape CX moving forward, while taking a closer look at digital tools that empower companies to deliver optimal digital experiences.
More specifically, we'll explore how:
Customer journey trends have changed as a result of Covid.
The latest changes in CX design can create world class experiences.
Composable technology can revolutionise your customer and operational engagement.
The new breed of ecommerce tools meets the demands of modern-day customers.
Amassing an impressive speaker line up, Stakd looks to challenge the way we approach digital agility and illustrate its value for CX strategies, while looking at the future of digital experiences.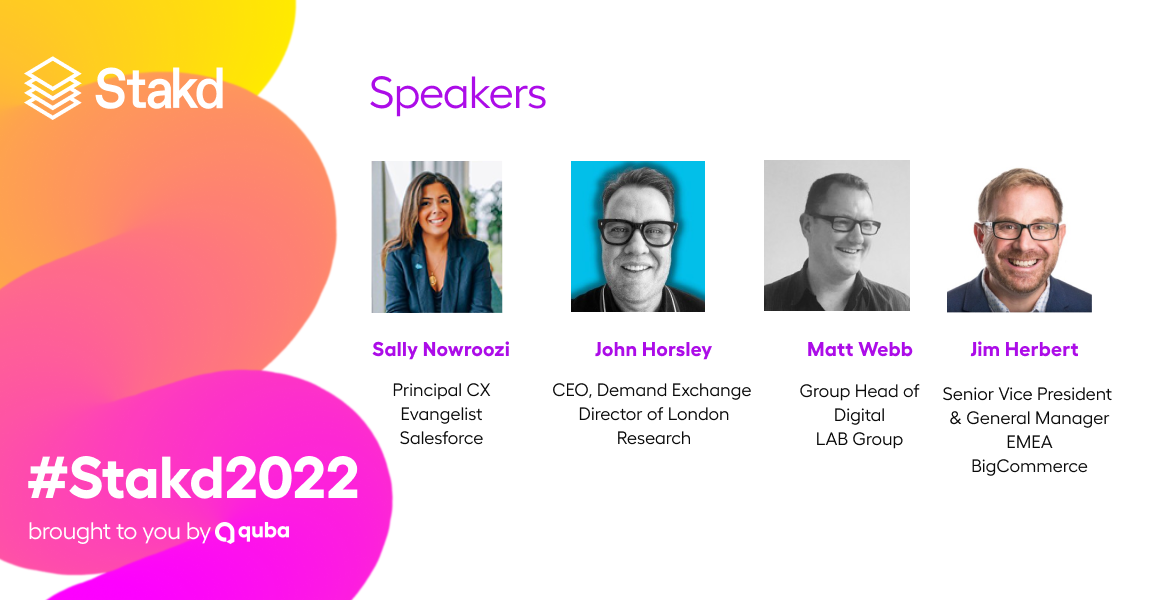 Talks include:
The ever evolving B2B customer journey – John Horsley
Joyism - How Play is Shaping the Future of Experiences – Sally Nowroozi
The composable technology opportunity – Matt Webb
Headless ecommerce and the future of buying experiences – Jim Herbert
Join us for a series of short talks and networking drinks - at Martinez Members Club on June 30th in London - to hear from Salesforce, London Research, BigCommerce, and LAB Group, as they explore this rapidly changing space - secure your spot here.
Get more of this by subscribing to our regular newsletter