Jamie's remit is not just the growth of the new business channel, but to work to make sure that growth is sustainable and in line with Quba's value and culture. That means working with ambitious clients and teams eager to challenge themselves and Quba's designers and tech team to deliver solutions.
We caught up with Jamie and had a chat around what drives his work, his thoughts on the industry and more.
What was most appealing about working at Quba?
Quba has been around for a little over two decades, which is a long time in this space. Quba was pretty much there at the start of "online" and the team has evolved, innovated and is continuing this journey so it's really woven into the agency culture. It's part of the DNA.
And fundamentally it's about connections. We connect ideas, processes and systems – all of which ultimately connect people.
How have you found remote working?
I'd worked remote, or from anywhere, hybrid for a number of years prior to the shift in 2020, but the move to 100% remote has allowed me to get into more of a routine, which represents a better balance, without the commute.
Not to sound like one of those tech bros on LinkedIn, but I get up around 7 and take Arthur, my 1-year-old Old English Bulldog, down to the beach for an hour. Back for 8am and logon and start the workday, gym at lunch 3 or 4 times a week, and yoga after work. All of which would be difficult with a daily commute to London.
And as the last 2 years have shown, everyone is still as, if not more, productive.
How have you found client meetings?
There are huge positives, for us and the client. It can be lower barrier to a conversation, and everyone is happy to be more efficient with their time.
That being said, I do prefer face to face meetings, and I miss the more casual side of grabbing a coffee and an informal chat. I'm looking forward to getting to do more of that as people get more comfortable. And IRL events too.
What draws you to work in digital?
Anything is possible. There is no limitation to how creative you can be with a solution. If something doesn't exist, you can build it. Digital represents countless opportunities.
More so working within the agency space, I was always drawn to the fact that not only is an opinion expected, it's a detriment not to have one. Companies are outsourcing their thinking somewhat, and looking to agencies as changemakers, so having a point of view and taking a stance is a necessity. Otherwise, we're just hired labour, which - while honourable work - it's not as engaging or rewarding.
What do you find most interesting when discussing a prospective clients' digital transformation projects?
I am most excited by their vision. Where they want to get to, their goals, aspirations, hopes and what they are passionate about delivering. It's always a process of understanding how each brief aims to deliver both for the customers of a business, as well as the team internally; and how a prospective client is approaching this.
We predominantly work within B2B, with some B2C, and working with those who understand that the B2B buying process is more and more like the consumer experience. People expect to find information and content to add value and help them along the buying process, easily.
When you consider that the majority of the workforce are now digital natives, there's the often-quoted stat, that by 2025 it's 75%, right now more of those in key influencer and decision-making positions would be considered Millennials, for want of a better word. And they expect and demand a consumer like experience. Working with clients that get that and invest in the kind of UX, CX and tech that delivers on that is super important, as otherwise we're pushing a boulder up a hill.
What is one of the key benefits of technology in business in your opinion?
The ability to test and trial products and services, with an MVP, and scale them up if successful and adapt or abandon them if not. There is also the ability to have a direct relationship with the customer, like we see with the growth of direct-to-consumer brands or established brands like Nike that have effectively developed direct to consumer models by nurturing their own platforms. These brands have reframed their relationships with their customers, increasing brand loyalty and creating a community.
What are the challenges of your role?
Battling the evils of inertia, in action and the status quo. It's human nature to want things to stay the way they are more than drive real change. We do anything to minimise risk, even though everyone knows doing nothing is the bigger risk, it has less accountability .
The best, or most successful organisations are the ones that have an agile culture and a bias for action. They make more decisions, ship more, get feedback and then iterate to success.
What trends do you see as particularly interesting or too big to ignore?
I could say NFT's and the metaverse, but I haven't seen any real-world applications for those yet, other than as a commodity and means of value transfer. While there is utility in the underlying technology.
In the nearer terms there are huge shifts in a number of areas that have a direct effect on our market, as well as for our clients.
There's what's been termed "the great resignation" – which I don't see as resignation. What I do see is people moving jobs;, and from the people I know, it's to roles that are a better fit, offer more opportunity for growth and satisfaction. Which is a positive. That does mean there's a lot of movement, and some companies will find it hard to recruit talent. There is a skills shortage, particularly in tech and digital roles.
That's where an agency like Quba can help, in terms of filling that knowledge and skills gap. But more so, speaking directly to that idea of "great resignation" and people moving to roles that are more satisfying or purposeful, we have this as one of our key values – to make your people's roles and day to day job better through technology and its implementation. It's CX for your internal customer.
That along with sustainability, of all kinds.
Sustainability as it relates to technology, systems, platforms or processes that you can update and iterate, keeping them relevant and best in breed with continual iteration, as opposed to rebuilding from the ground up every 3 to 5 years.
And of course, it more commonly relates to the environmental impact of what we do. With companies looking to clean up their supply chain from end to end, including digital solutions and agency partners.
Both of these would come under purpose. I think purpose and sustainability have had a lot attention with little real action or commitment for the last 5 years or so. To the extent that people feel they just don't have any meaning or relevance as they relate to organisations. But I think that's changing very quickly, people want real action across both of these now.
These are some of the immediate trends that will impact our market, and they're connected.
What's a book, podcast, a movie or a series that has changed the way you view technology?
I think the most interesting stuff is around the people and culture that technology should be serving, as well as market trends. I try and cover a fair bit of ground from different angles and join the dots.
Podcasts I like Bruce Daisley's "Eat, Sleep, Work, Repeat" which focuses on work culture and the future of work,"The Overthinkers" with Rachel Mercer & Shann Biglione, which is focused on strategy, more specifically for the advertising space, but there is a lot that is applicable to general marketing.
There are a few newsletters too; like Ed Zitron's "Where's Your Ed At", again this is focused on culture and the shift in work, Zoe Scaman's "Musings of a Wandering Mind", another on strategy but far reaching stuff like NFT's, the metaverse and the power of building communities. Tom Goodwin's "All We Have is Now", which I'd say is more about the questions to ask than providing answers and Casey Newton's "Platformer", which focuses more on Silicon Valley.
Books, "The Dawn of Everything" by David Graeber and David Wengrow and "The Third Industrial Revolution" by Jeremy Rifkin, which was written back in 2011, but think it's only now you start to see how insightful it was.
What is a quote that you would say inspires you?
"You miss 100% of the shots you don't take.-Wayne Gretzky" -Michael Scott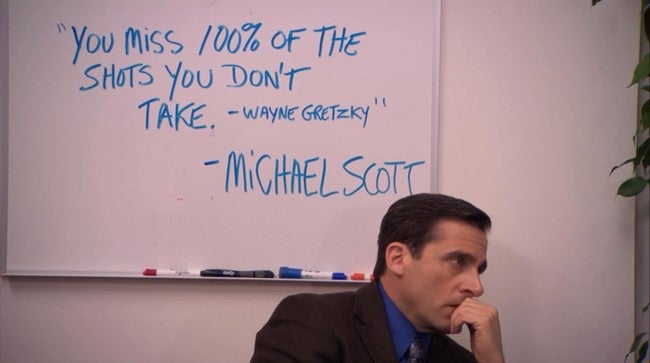 Has this discussion sparked an interest in digital transformation, or do you have an existing idea you would like to chat through with Jamie? You can reach him at jcrozier@quba.co.uk – or speak with the Quba team by submitting a contact form.
Get more of this by subscribing to our regular newsletter